Click here or here for the song of the day to accompany this post. Which version you choose will be a surprise!
---

Hat: J.Crew Outlet/Shirt: Topshop/Skirt: Tommy Hilfiger/ Purse: Coach/Boots: Mom's closet
For today's outfit, I decided to channel my inner Clueless girl, and don my best plaid. If you've been anywhere near me these past few weeks, you'll know I've developed an obsession with pastel blues and decided to try for a more subtle take on the monochromatic look. To finish it off, I threw on my mother's boots to keep the outfit from being too school girl sweet.
Cher and Dion killing it, as per usual. Major snaps for matching BFF outfits.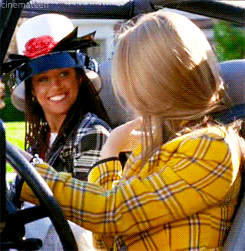 "She's my best friend because we both know what
it's like to have people be jealous of us."

Cher getting her cardio in for the day. #goals
Which high school character would you guys vote best dressed for in the world of movies?
-Rosyblush